Only a couple hours it's all it takes to build this coffee can storage rack which is extremely functional workshop addition!
A Nice Coffee Can Storage Rack in progress!
So, here we go ladies and gentlemen:
If your shop is like the vast majority I've seen then you have stuff strewn all over the place; everyday stuff is laying in drawers, stacked on shelves, falling off your workbench and onto the floor, and countertops and machinery have become flat storage areas.  In fact, I'll wager you spend a helluva lot more time looking for project things than you spend on the project itself.  So, I'm going to suggest taking a look at this dandy shop organizer I dreamed up.
It consists of plain (read cheap) 1/2″ EMT (electrical metallic tubing), 7/16″ OSB for the shelves and ledgers, a single 2 x 2 member to hang the tubing and a small handful of some 16d sinker nails for the shelf support pins (heads cut off and then cut in half).  That's it…nice 'n open, no complicated joinery, no fuss and so simple even a Caveman can do it.
The first step is to drill all the holes in the pipes at the shelf locations.  Next, the ceiling support member has holes drilled to accept the tubing.  Insert the tubes in the holes, drill an 1/8″ hole clear through the member, insert a pin in each pipe, mount it onto the ceiling and that's it – you're ready to put the shelves into position.
Slide the shelves up  (I used a spacer between the ledger and shelf top) into position, secure it to the wall, install the shelf pins, repeat until done.
I designed the rack to contain the tallest tub Folgers has so the shelves are 9″ apart 7 3/4″ deep and 92″ long.  The ledgers are 2″ wide.  The tubs measure 6 1/2″ dia. x 8 3/4″ h.  My racks (I have two of them now) are just like you see above and each contains 98 tubs.  I have everything from soup to nuts stored in them and very few are strictly woodworking related and it doesn't matter what project I'm working on I can have my fingers wrapped around something I need in mere seconds.
I used Folgers coffee tubs because of that swell built-in handle and because the area right at the very top of the handle (directly below the logo) screams out for a stick-on label to indicate the tub's contents.
According to my calculations, I determined It would take right at thirty-eight years for me to drink 196 tubs of coffee so I went on a crusade to businesses across town and telling friends to save the tubs for me and before I knew it they were coming in by the droves (the VFW alone was good for ten tubs a month).  Restaurants, diners, gas stations, bars…you name it, they were all hit up.
Now, you can be anal about this and declare you want all the tubs to be the same size but that is…well, being anal.  The fact is they don't need to be because there are some things you'll never have enough of to fill the largest tub.  Having said that, I do agree with continuity and I change out the smaller ones as the larger tubs come in.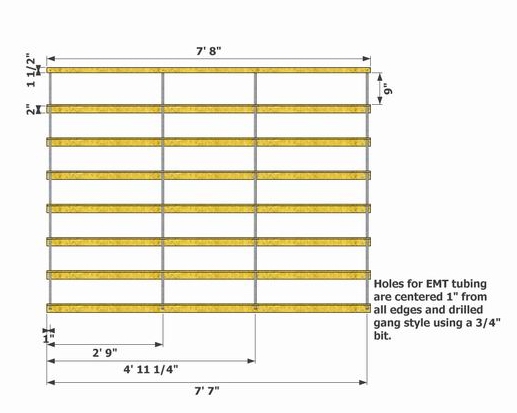 Voila! Job is done. Enjoy
ref: www.twistedknotwoodshop.com
Share