Making Cabinets Technique
Don't get me wrong, I like Norm Abram.  I think he has a ton of talent and does a bang up job instructing and propagating woodworking but I have to say it pains me severely to watch him build regular, run-of-the-mill, everyday cabinets.  He spends so much time and wasted energy on them that I want to run screaming into the night.  We're talking basic kitchen and bathroom variety cabinets here, not ship-going vessels.  The function of a cabinet is to sit there or hang there and that's it, that's all it'll ever do.  All those fancy screws and all the glue and all them rabbets and dadoes he uses are totally unnecessary.  There, I said it and I'm not the least bit afraid of doing so.
 Making cabinets – it's all about experience.
We have been stapling cabinets together for twenty years or better and we have yet to hear of one falling apart or coming off a wall.  So, before we go any further let me address how I go about making my cabinets:
We use quality sheet goods; AC or BC plywood, Melamine or particle board (more on this later)

We have a dimensioned drawing of all my cabinet sizes – both base and wall (this makes my material cutting faster and easier)

The only thing I fret on are the face frames – in other words I don't get anal on carcase assembly
That's it!  Those are the only things
So, let's continue on making cabinets …
Tools you'll need:
A tablesaw – yes, you could cut the parts with a circular saw but a TS is faster and more accurate

A 1/4″ crown stapler capable of shooting 1 1/2″ and 1 1/4″ staples

A brad nailer capable of shooting 1 1/2″ brads

An air compressor

A planer

A drywall square

A framing square

A miter saw

A hammer

A pair of dykes

A pencil

A pencil sharpener

Lighting

Electricity

A workbench

Pipe or bar clamps

A cordless drill equipped with a #2 Phillips or square drive bit

A stupid worthless cat
I'm pretty sure you can do without the damned ole stupid worthless cat but the other stuff you'll need.
There are two types of cabinets; base and wall.  Any that rest on the floor are base cabinets.  Guess which ones are on the wall?
If you said 'wall' then you're an excellent guesser.
Ok, the next thing are the cabinet rules.  These rules are for standard base and wall cabinets, meaning 24″ deep x 34 1/2″ high and 12″ deep x 30″ high respectively (if you want your cabinets different then you'll need to adjust these dimensions accordingly).  These rules shall never change so consider them chiseled in stone.
I know, you're saying, "But Dear ole Joe, base cabinets are 36″ high how's come yours are 34 1/2″ high?"  Well, that's because we haven't put on the counter top yet.  Don't worry, we'll get there. 
Base cabinets
Sides and partitions – 22 3/4″ x 29″

Bottoms – 22 3/4″ x however wide the face frame is minus 3/4″

Shelves – 14 3/4″ x however long they need to be – you don't want the shelf the full depth

Backs – however long the bottom is x 29 3/4″ x 1/2″ thick (this is the only 1/2″ material used on the base cabinet)

Toe-kick – 4 3/4″ wide strips and 2″ wide strips (I get these out of the scrap so cut them last)
Wall cabinets
Sides and partitions – 10 3/4″ x 26 7/8″

Shelves – 10 3/4″ x however long they need to be – on wall cabinets you want them the full depth

Bottoms and tops – however wide the face frame is minus 3/4″ x 10 3/4″

Backs – however wide the face frame is minus 3/4″ x 28 3/8″ x 1/2″ thick (this is the only 1/2″ material used on the wall cabinet)
Face Frames
All rails are 2″ wide (using pocket hole joinery is best however butt joints work well)

All outside stiles are 1 5/8″ wide*

All partition stiles are 1 3/4″* 

Face frames extend 1 1/4″ below the carcase (see drawings below)
* – These widths allow you to use 1/2″ spacers when/if it comes time to install drawers (see the drawer video links at the bottom of this course).
The intended use of a cabinet determines what sheet material will be the components making up the cabinet; if it's a cabinet in my shop then the carcase will be plain particle board. If I'm making a set of kitchen cabinets then they are always Melamine; it's already finished, easy to clean and looks professional. Plus, it comes in different solid colors and patterns – nice stuff. One caveat though…be careful handling it after making a cut – the edges are very sharp and will slice you damn near to the bone.
I try to avoid using plywood unless the grade is AC or better and even with that I have issues; voids between the layers, football shaped fillers that are all too visible when a finish is applied, the thicknesses being odd-sized and the cost. Basically, unless I'm trying to match cabinets already in place or the client specifically requests it, I don't use plywood.
The first thing I do is cut all the components making up the cabinets and mill the face frame material.  I stack them against a wall in sections; tops/bottoms, sides/partitions, backs, etc.  I do this because I place trust in the cut list generated from a 3D modeling program called SketchUp and you'd do well to download this wonderful program. With it in hand I can easily cut all the parts for an entire set of average kitchen cabinets in two hours and never once question the accuracy of the dimensions.
Take a look at this model of expanded parts making up a standard base cabinet.  Notice there are only four major parts; the back, the sides and/or partitions, the bottom and, finally, the toe-kick assembly.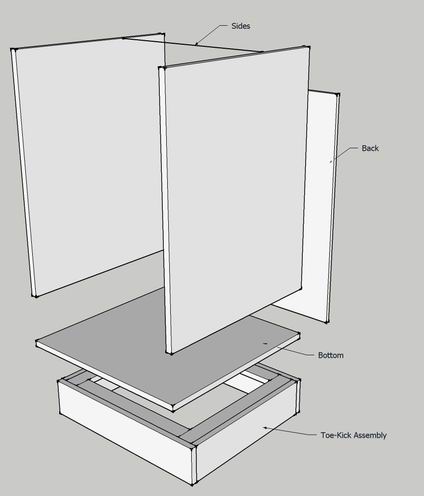 And this is what is looks like assembled.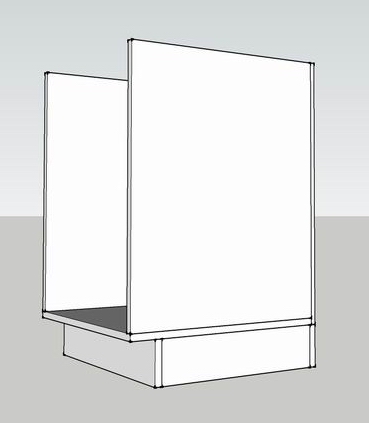 Assembling the basic carcase couldn't be simpler.  Stand the bottom up on your floor and lift one of the sides or partitions into place, staple it every 3″ using 1 1/2″ staples then repeat for the remaining side and/or partitions.  Now you have at least a "U" shaped figure.  Place the back on and begin stapling (without changing sizes – this is all about speed here) it onto the carcase frame making sure one side and the bottom align then staple the other side.  If your cuts are square then your carcase is square.  In other words, don't worry about it, move on.
After all the base cabinet carcases are assembled and laying scattered on your shop floor, it's time to put on the toe-kick-assembly.  Run around and stand all the carcases bottom up and use the scrap material left over to cut the pieces.  Staple them as shown below.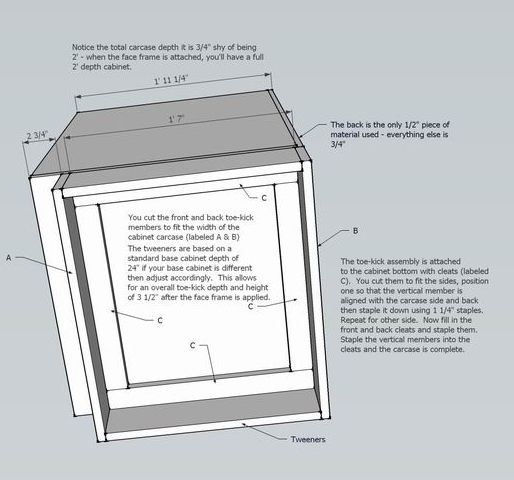 The toe-kick couldn't be simpler.  See how the assembly raises the carcase off the floor?  See how the face frame extends below the carcase bottom?  An 1 1/4″ + 3/4″ is 2″!  Presto!  With the rails milled to 2″ all you have to do is flush the face frame with the upper surface of the bottom shelf while making sure to overhang the stiles by 3/8″ on each side.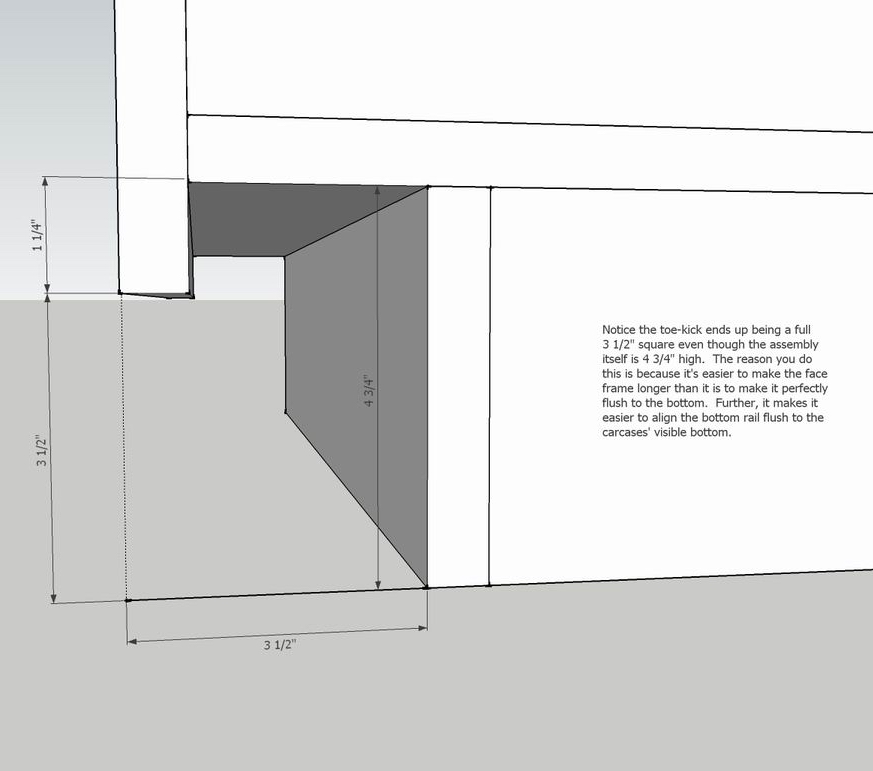 From here on out you have to figure out for yourself where your partitions will be, what your face frame layouts will be, etc. but what I've given you here should be plenty of information to get started.  Keep in mind this details base cabinets but the structure of wall cabinets is the exact same with the only difference being there is no toe-kick, which is replaced with an exact replica of the top.
Face frames on base cabinets are always flush to the top of the carcase, however on wall cabinets they are 3/8″ proud of the top of the carcase.  Why?  Again, assembly anomalies and to get them all to align and look nice.
How do I attach the face frames?
I first lay down a line of yellow carpenter's glue along the center of the edges of the carcase.  Next, I set the FF in position (if you made the FF properly then the top edge of the 2″ wide bottom rail should be flush with the upper surface of the carcase's bottom.
Start at the bottom of the FF to fasten it to the carcase by using your brad nailer.  Align the FF to the carcase side by using a strip of wood as a spacer that is cut to 3/8″ thick (if you made the FF properly then the other side of the FF should also be 3/8″ proud of the carcase side.  Flush the rail and make sure the FF is 3/8″ proud of the side and sink a brad in one corner then do the same in the other corner (I try to space the brads about 8″ apart).  Now that the FF is fastened to the bottom move the spacer up to the top of the carcase – push/pull the carcase side so you have the 3/8″ overhang and sink a brad (repeat for other side – if there are partitions then you may have to measure to align them properly).  Finish brad nailing the stiles of the sides and partitions.  If you used too much glue then you might want to clean up whatever squeezed out.
Fastening wall cabinets to the wall is quite simple, drill through the 1/2″ back where necessary – no hanging rail, no French cleats, no fancy crap.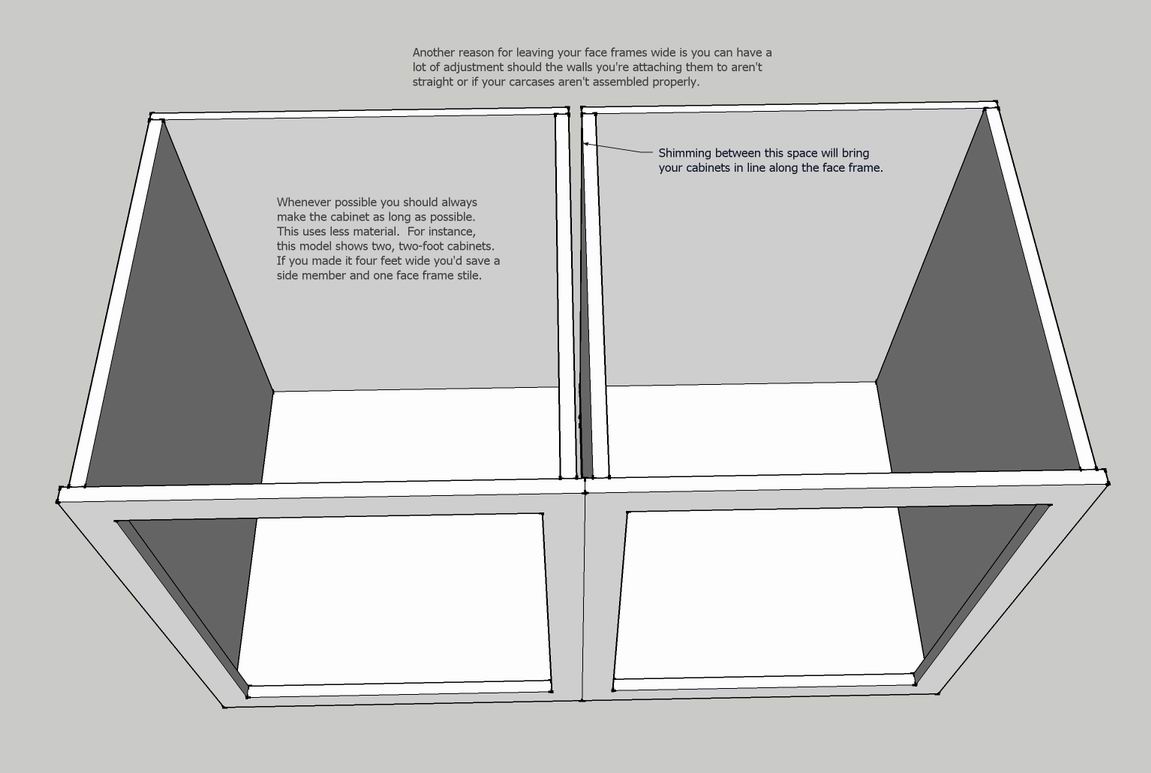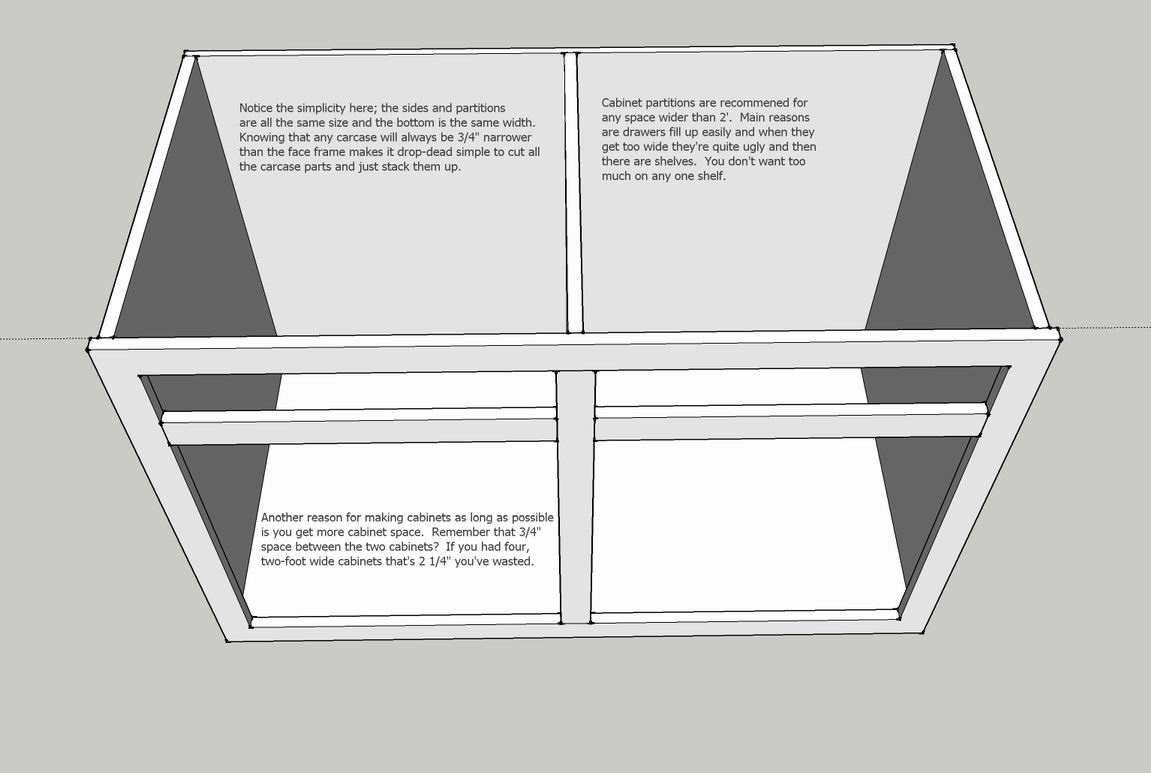 Shelves are the absolute last thing you cut.  You cut them to fit because you can't be trusted to assemble the carcase accurately or trust the material you're using.  So, measure after the face frame is attached and then install them.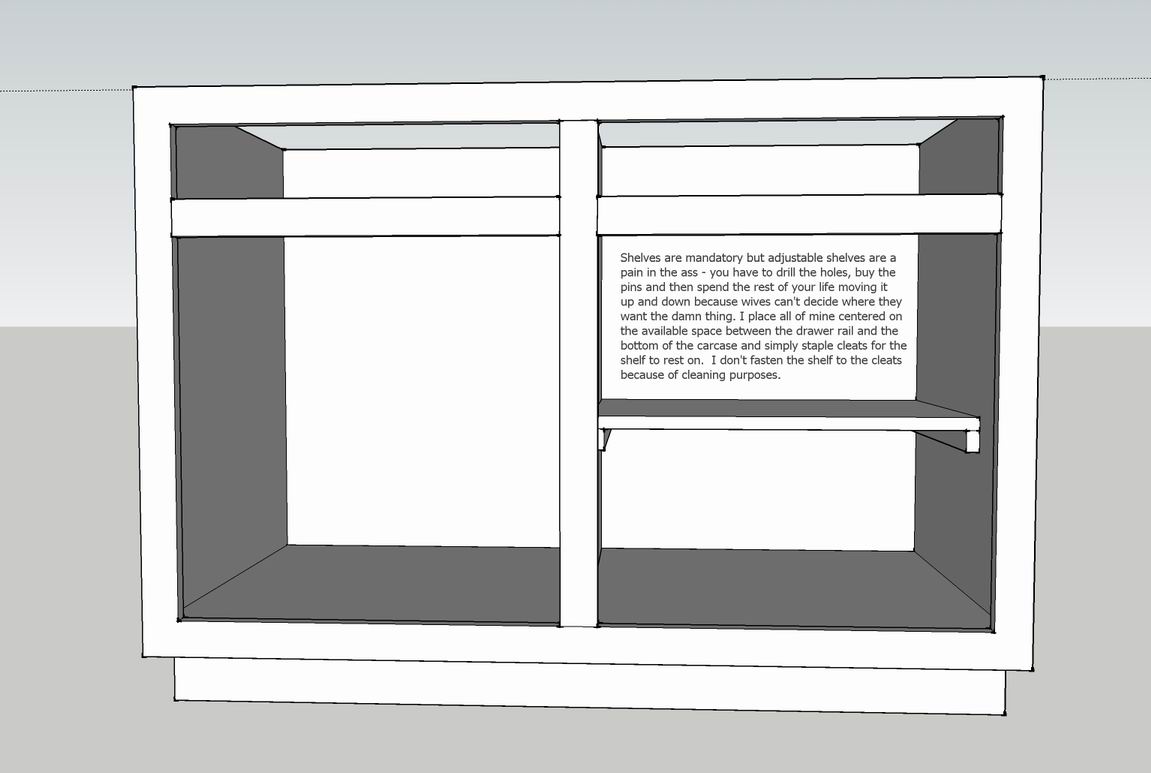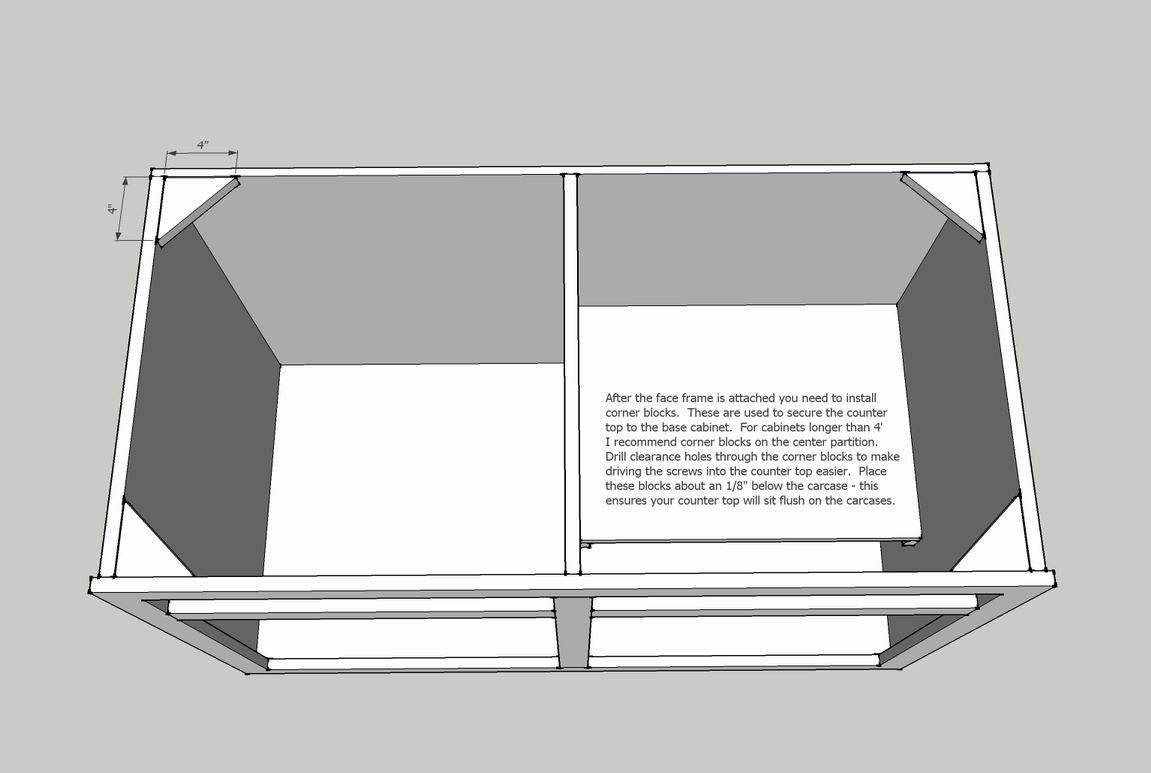 Dominic Palazzola, a veteran member of our woodworking list, suggested a slide-out step stool in the toe-kick area.  I've installed a boatload of cabinets over the years and this idea struck me with a lot of force.  Now, instead of your wife howling for you to get up off the couch and come reach that once-in-a-blue-moon dish off the top shelf, she can bend over, extract the almost hidden step and get the damn thing herself.  This view also shows the attached panel that gets brad nailed onto the carcase.
As for counter tops, well, they're like apples, there are so many kinds I could sit here for years writing about them.  But you can go HERE for my Counter Tops 201 class.  For now, suffice it to say my counter tops have a 5″ wide x 3/4″ thick layer around the perimeter of the full layer to give the illusion of it being 1 1/2″ thick.  Therefore, 34 1/2″ + 1 1/2″ = 36″ (See, I told you I'd get there).
I'm certain some of your base cabinets will house some drawers so I did these three videos showing you how I go about making and installing drawers.
ref:twistedknotwoodshop.com
Share